Summer is a great time to get some reading done! Who doesn't love laying on the beach soaking up the sun with a good book? I wish I could do that every day! I made a list of my top five books I want to read this summer to share with you guys. If you want to see my complete list of books I would like to finish by summer's end, you can find it
here
.
1. The Beginning of Everything by Robyn Schneider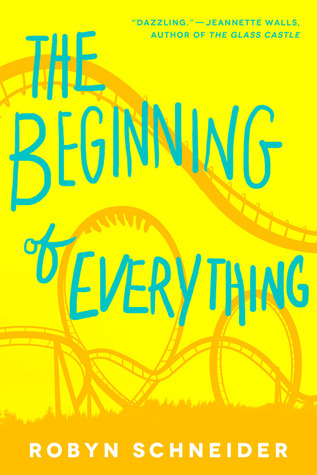 "Golden boy Ezra Faulkner believes everyone has a tragedy waiting for them—a single encounter after which everything that really matters will happen. His particular tragedy waited until he was primed to lose it all: in one spectacular night, a reckless driver shatters Ezra's knee, his athletic career, and his social life.
No longer a front-runner for Homecoming King, Ezra finds himself at the table of misfits, where he encounters new girl Cassidy Thorpe. Cassidy is unlike anyone Ezra's ever met, achingly effortless, fiercely intelligent, and determined to bring Ezra along on her endless adventures.
But as Ezra dives into his new studies, new friendships, and new love, he learns that some people, like books, are easy to misread. And now he must consider: if one's singular tragedy has already hit and everything after it has mattered quite a bit, what happens when more misfortune strikes?
Robyn Schneider's The Beginning of Everything is a lyrical, witty, and heart-wrenching novel about how difficult it is to play the part that people expect, and how new beginnings can stem from abrupt and tragic endings."
2. Wild Awake - Hilary T. Smith
Things you earnestly believe will happen while your parents are away:
1. You will remember to water the azaleas.
2. You will take detailed, accurate messages.
3. You will call your older brother, Denny, if even the slightest thing goes wrong.
4. You and your best friend/bandmate Lukas will win Battle of the Bands.
5. Amid the thrill of victory, Lukas will finally realize you are the girl of his dreams.
Things that actually happen:
1. A stranger calls who says he knew your sister.
2. He says he has her stuff.
3. What stuff? Her stuff.
4. You tell him your parents won't be able to—
5. Sukey died five years ago; can't he—
6. You pick up a pen.
7. You scribble down the address.
8. You get on your bike and go.
9. Things . . . get a little crazy after that.*
*also, you fall in love, but not with Lukas.
Both exhilarating and wrenching, Hilary T. Smith's debut novel captures the messy glory of being alive, as seventeen-year-old Kiri Byrd discovers love, loss, chaos, and murder woven into a summer of music, madness, piercing heartbreak, and intoxicating joy.
3.What I Thought Was True - Huntley Fitzpatrick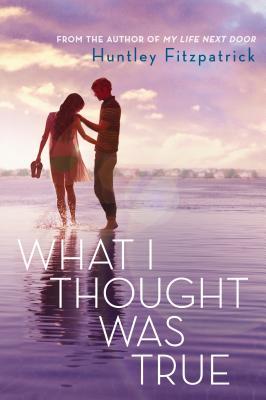 Gwen Castle's Biggest Mistake Ever, Cassidy Somers, is slumming it as a yard boy on her Nantucket-esque island this summer. He's a rich kid from across the bridge in Stony Bay, and she hails from a family of fishermen and housecleaners who keep the island's summer people happy. Gwen worries a life of cleaning houses will be her fate too, but just when it looks like she'll never escape her past—or the island—Gwen's dad gives her some shocking advice. Sparks fly and secret histories unspool as Gwen spends a gorgeous, restless summer struggling to resolve what she thought was true—about the place she lives, the people she loves, and even herself—with what really is.
4. The Museum of Intangible Things by Wendy Wunder
Hannah and Zoe haven't had much in their lives, but they've always had each other. So when Zoe tells Hannah she needs to get out of their down-and-out New Jersey town, they pile into Hannah's beat-up old Le Mans and head west, putting everything—their deadbeat parents, their disappointing love lives, their inevitable enrollment at community college—behind them.
As they chase storms and make new friends, Zoe tells Hannah she wants more for her. She wants her to live bigger, dream grander, aim higher. And so Zoe begins teaching Hannah all about life's intangible things, concepts sadly missing from her existence—things like audacity, insouciance, karma, and even happiness.
5. Since You've Been Gone - Morgan Matson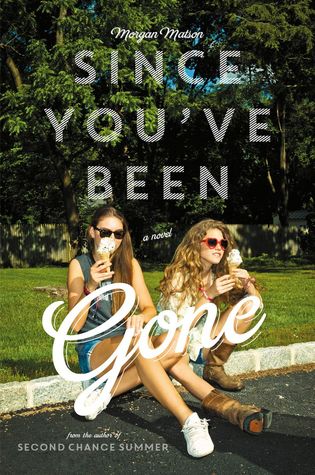 The Pre-Sloane Emily didn't go to parties, she barely talked to guys, she didn't do anything crazy. Enter Sloane, social tornado and the best kind of best friend—the one who yanks you out of your shell.But right before what should have been an epic summer, Sloane just... disappears. No note. No calls. No texts. No Sloane. There's just a random to-do list. On it, thirteen Sloane-selected-definitely-bizarre-tasks that Emily would never try... unless they could lead back to her best friend. Apple Picking at Night? Ok, easy enough.Dance until Dawn? Sure. Why not? Kiss a Stranger? Wait... what?
Getting through Sloane's list would mean a lot of firsts. But Emily has this whole unexpected summer ahead of her, and the help of Frank Porter (totally unexpected) to check things off. Who knows what she'll find?
Go Skinny Dipping? Um...
What books are you looking forward to reading this summer? Comment below!